Padang Padang Beach near the Village of Pecatu is a favorite destination for travelers who want to enjoy Bali's exotic beach without having to deal with the noises and crowds. Padang Padang Beach is not different from the remaining beaches in Bali. It looks stunning with its crystal-clear water and soft white sand and there are accommodations and restaurants that you can find nearby. Reaching this beach is also not difficult because it is located not very far from the airport. If you travel with family members or friends, you can rent Sandholiday minibus or bus for easy and cost-effective access to this beach. The only thing that makes Padang Padang Beach different is that it feels so tranquil and peaceful. It is certainly a perfect retreat for people who don't want to wander too far from the capital city but expect a quiet exotic place to enjoy their holiday.
Why Should You Go to Padang Padang Beach?
There are many reasons why enjoying your holiday at Padang Padang Beach with your family is a perfect decision.
Padang Padang Beach is not far.
There are numerous beaches in Bali that are classified as secluded and tranquil beaches, but only a few that are located near the hottest tourist spot in Bali. Padang Padang Beach is one of those few. It is not very far from the famous Kuta and Sanur Beaches and it is only about half an hour to an hour of a trip from the International Airport. If you travel with your family, you can call Sandholiday to provide you with an easy and affordable transport because the company's head office is located in the same regency.
The view is mesmerizing.
What is unique about Padang Padang Beach is that you will be able to see not only a large expanse of glowing white soft sand and transparent sea water but also large formations of coral rock off the shoreline. This majestic look is rarely found in other beaches in Bali. The mesmerizing view of this beach makes it an excellent place for taking photographs and videos. In fact, Padang Padang Beach is the chosen site for the making of the Hollywood movie Eat Pray Love, which starred Julia Roberts.
The waves are great for surfing.
Despite the presence of large rock formations off the shore, the waves are actually excellent for surfing. If you venture further from the beach to a surfing spot that is not disturbed by the rocks, about 300 meters from the beach, you can enjoy an exciting surfing experience there. If you prefer to stay near the beach, you can still enjoy some exciting water activities, such as swimming and snorkeling.
It is an enjoyable beach if you visit it at the right time.
Padang Padang Beach is undoubtedly an enjoyable beach; however, to experience the most enjoyment when visiting this beach, be sure that you visit it at the right time. The peak of the dry season, which lasts from April to October, is considered the best time to visit Padang Padang Beach because rain rarely falls (or even doesn't fall at all) during such period. The breeze is also mild and cool and there is rarely strong wind that blows and brings garbage from other places. Consult Sandholiday if you want to learn more about the right time to visit Padang Padang Beach and other interesting places in Bali.
There are many restaurants and shops.
Despite being a secluded beach, Padang Padang Beach hardly lacks tourism facilities and amenities. If you want to enjoy delicious meals, there are many restaurants that you can find near the beach. The menu includes a huge variety of foods, ranging from exotic local cuisines to fancy western foods and beverages. The prices are also varying. If you are backpacker looking for a cheap place to eat, you can always find it near the beach due to the pervasiveness of street food vendors and cheap restaurants. If you are looking for fancier foods with their extra price, you can also find fancy restaurants there. Merchandise shops are also found everywhere, so it should not be hard for you to buy souvenirs and mementos that you can bring home.
This place is simply cheap.
Despite its proximity to the most famous and most expensive tourism spots in Bali, Padang Padang Beach is actually a cheap destination. There is no entry fee to enter the beach area and everything that you need to buy or rent at this beach is relatively cheap. We will discuss more the costs of visiting Padang Padang Beach below.
Padang Padang Beach Entrance Fee
As mentioned above, there is no official entrance fee to enter the beach area. Everyone is allowed to enter this area for free. However, although there is no entrance fee to enter the beach, you may be asked to provide a donation by the locals. Don't worry, though, because the donation required is mostly cheap and never exceeds $1, especially if you know how to haggle. In 2019, the donation required to enter the beach is already fixed, with IDR 10,000 required for foreigners and IDR 5,000 required for domestic visitors.
Besides the donation, there is also a parking fee that you have to pay, especially if you carry your own vehicle to this site. If you rent a minibus or bus from Sandholiday, you can negotiate about all parking fees at all places that you want to visit when you are signing the rental agreement. The parking fee varies depending on the type of vehicle that you use to reach this beach. If you ride a bike, the fee that you have to pay is about IDR 2,000. If you use a car, you have to pay IDR 5,000 for one-time parking. The parking fee will be costlier if you use a rented bus. This is the reason why you need to negotiate with Sandholiday about the parking fees if you rent a larger vehicle from this company.
If you want to enjoy certain activities that require the use of certain equipment, you can either carry the equipment yourself or rent it from nearby booths. The cost of renting a surfing board, for instance, starts at IDR 100,000 or about $7. Therefore, even if you have to rent something in Padang Padang Beach, your overall expense to enjoy everything that the beach can offer is still relatively low.
The Best Way to Get to Padang Padang Beach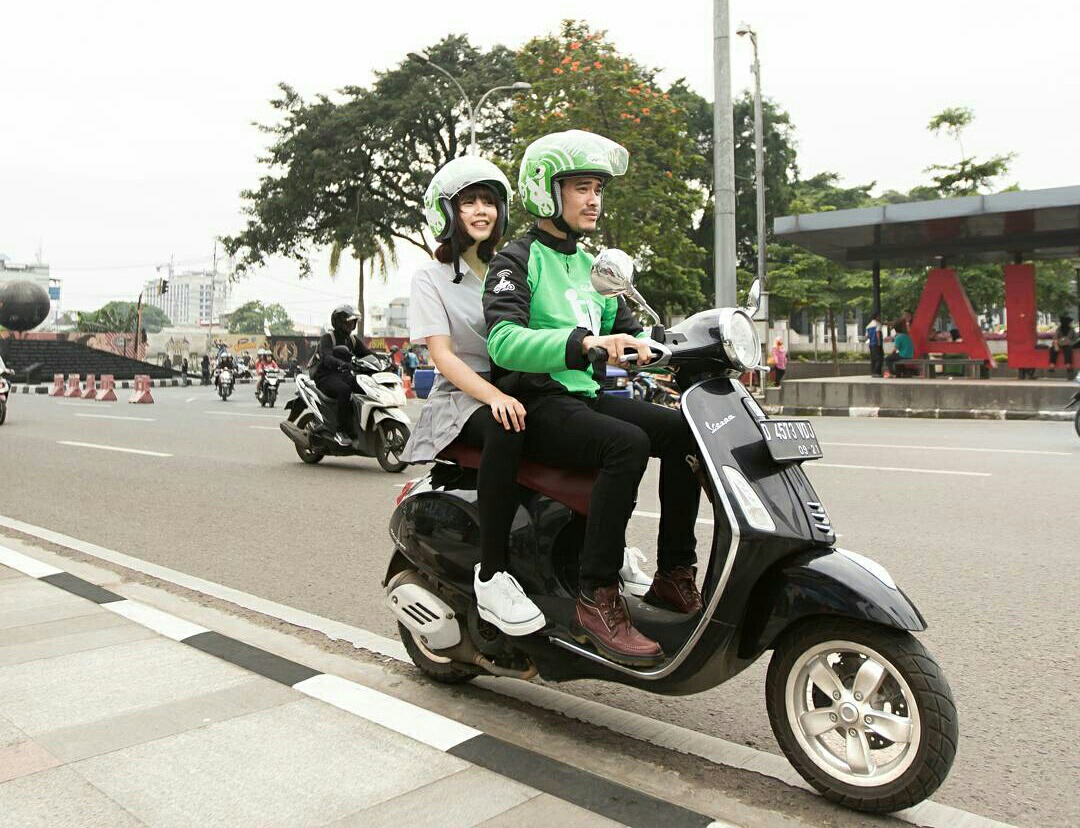 There are several ways to get to Padang Padang Beach, all of which require you to have either an owned or rented vehicle. There is currently no public transportation to reach this beach, despite its proximity to the airport and the capital city; however, because vehicle rental is very common in Bali, the absence of public transportation to reach this beach should not be a problem.
Another excellent way to reach this beach is by using any online ride-hailing services, such as Grab and Go-Jek. Just install the app on your smart device and you can hire the transport whenever you need. The best thing about hiring such services is that the price is already fixed by the app (so you don't need to haggle) and that you will mostly get excellent service because the driver's reputation is decided by your review.
If you prefer to rent a vehicle over an extended period to allow more flexible trip, there are several rental options available. The cheapest way to reach the beach if you are traveling alone is by renting a scooter or a motorcycle. The cost for renting a bike is about IDR 70,000 ($5) for 24 hours, IDR 300,000 ($21) for a week, or IDR 600,000 ($42) for a month. If you are traveling with some friends, you can rent a car for about IDR 300,000 to IDR 500,000 for one day. If you need a bigger vehicle with a bigger capacity, you can call Sandholiday to inquire about any available options depending on the size of your trip and your budget.
Sandholiday is a bus charter company that is based in Jakarta, but now also has a second head office in Bali. The office is located in Tuban, Kuta, Badung Regency. Its location makes it an accessible transport service provider if you are staying in Denpasar and neighboring areas. If you are renting the vehicle in Bali, you can choose one of three available vehicle types, a Toyota Hiace minivan for up to 16 passengers, an Isuzu Elf van for up to 19 passengers, and a small bus for 31 passengers. All vehicles feature air conditioner, reclining seat, a television and audio-video system (DVD, LCD, and Karaoke with microphone), Wi-Fi internet, safety belts for all passengers, first aid kit box, umbrellas for passengers, a fire extinguisher, a glass-breaking hammer and an emergency door, a water dispenser, and phone charging ports. You and the members of your trip will feel at home during their trip to Padang Padang Beach and other interesting places that you have included in your itinerary.